At work. At play. At Mercer.
In the first of a series of behind-the-scene interviews with people from Mercer, we talk to investment expert Philip Houghton-Brown about why he thinks taking absolutely no risk is a risky strategy – both at work and at play.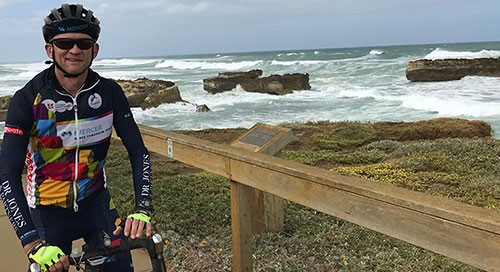 At play Philip's a keen cyclist who recently rode over 1,100 kms and raised over $4,500 for families affected by cancer and CureKids.
What do you do at Mercer?
I'm responsible for managing all of Mercer's local investment funds. I work with the team here and Mercer's investment specialists around the world.
So how do you do that?
There are a couple of concepts here.
The first is Mercer is a multi manager. We have expertise picking outside investment managers to manage each fund's different assets – like shares or property. We closely monitor the investment managers.
Secondly, we actively manage the proportion of assets within the fund. For example, if we thought the New Zealand dollar was going to be increasing over the next one to two years, we'd loo hold more New Zealand dollars. If we thought shares were going to continue performing well, then we'd hold more shares.
That sounds a bit like conducting an orchestra – is that active investing?
Yes – there are a lot of moving parts. We spend a great deal of time designing each fund and monitoring our investment managers to make sure they're doing what we expect.
How do you manage risk?
Through diversification - Mercer's funds are probably the most diversified in New Zealand. For example, all our KiwiSaver funds have a very broad range of underlying assets.
Our multi-manager approach also adds to diversity because global specialists manage different asset types with different styles. As a result they tend to perform differently over the investment cycle, helping to reduce fluctuations in returns.
Is it possible to avoid risk?
Trying to avoid any risk at all could be a risky strategy. If you want to invest for your retirement or some other purpose – you will need to generate some return – and to do that you have to take some risk.
Opting to do nothing is itself risky because of inflation. If we don't grow our money through investing in assets that usually generate a return above inflation it's unlikely we'll have enough saved for our retirement or another goal.
Money "left under the mattress" or sitting in a low-interest deposit seldom keeps up with inflation.
Does that no-reward-without-some-risk strategy roll over into your outside-of-work life?
I'm a cyclist living in Auckland so it has to!
If I wanted to avoid any risk I'd never ride outdoors again. But I really enjoy cycling and staying fit. I balance those health benefits against the chance of an accident.
Recently I competed in the Mercer SuperCycle – a seven-day, 1,100km ride for charity between Melbourne and Adelaide. If I hadn't been willing to manage the risks associated with riding, I'd never had got the amazing reward of raising over $4,500 for kids with cancer or riding the Great Ocean Road. Life can be a lot like investing!