Why is my cash return so low?

Interest rates in NZ and around the world are exceptionally low, and have just recently gone lower. This low interest rate environment we are in is a positive for borrowers, like those with mortgages, however not so great for savers, like those in the Mercer Cash Fund.
Why did the Reserve Bank of New Zealand (RBNZ) cut interest rate?
The RBNZ have a mandate of controlling inflation and supporting full employment. One of the tools they have to do this is setting the Official Cash Rate (OCR), which influences short-term interest rates such as the 90-day bank bill rate and cash investments, as well as long-term interest rates and the foreign exchange rate.
When things aren't going well, the RBNZ will cut the OCR, which will make it easier for people and companies to borrow. This may mean people have more disposable income to spend, and companies are more likely to hire people, which is a positive cycle to help the overall economy function. The opposite happens when things are going too fast and inflation might be a concern, the RBNZ will increase the OCR to slow things down to a manageable pace.
COVID-19 response
On 16 March 2020, in response to the rapidly deteriorating economic situation relating to COVID-19, the RBNZ cut the OCR to 0.25% and expects to keep it at this level for at least the next 12 months.
While this isn't a cure for COVID-19, it does offer borrowers like companies and those with mortgages a bit of respite. The RBNZ taking a number of measures to ensure that the banking system continues to function normally.
To put this OCR cut in context, the graph below shows the OCR in red and the 90 day bank bill rate in blue. The 90 day bank bill rate gives a guide on the level of return you might expect from cash investments going forward. As you can see, it is the lowest it has been in the past 20 years, in fact it is the lowest it has ever been.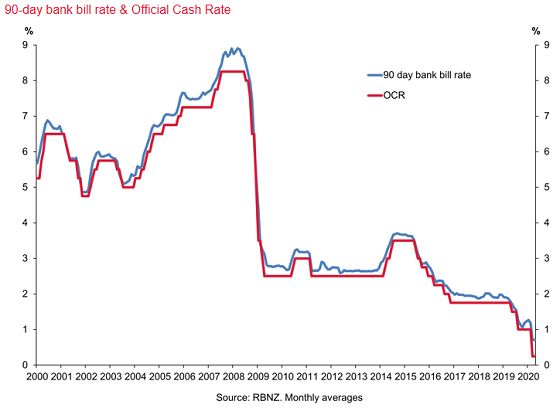 So is it still a good idea to invest in the Mercer Cash Fund?
Yes, for those that are investing for the immediate future, cash may still be the best option. While it won't generate much of a return, it will still provide the stability and lower risk profile than the other Funds.
Mercer's view is that cash rates will be low for foreseeable future. The risk of negative interest rates, like you may have seen in other parts of the world, is low for now, because New Zealand banking systems are not yet capable of incorporating negative rates. However once tax and fees are taken into account, the return you get in your account may be close to zero or even a slight negative.
So if you are invested in the Mercer Cash Fund, lower returns are to be expected. If you are unsure if this is the right fund for you, it may also be a good time to talk to a Mercer financial adviser or alternatively, you can take a quick 2-minute quiz to find out what may be the best investment option for you.
Robert Kavanagh
Portfolio Manager, Mercer NZ