Trade wars and uncertainty rule markets.

After a month of record local highs and a US rate cut, financial markets are now focused on the continuing US-China trade tensions and uncertainty around Brexit.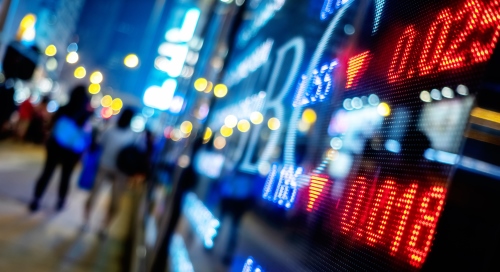 The US Federal Reserve cut interest rates for the first time since 2008, a dramatic move that buoyed investor confidence both in the US and globally. However, the positive impact was tempered by President Donald Trump's announcement that tariffs would be imposed on all remaining Chinese imports, feeding fears of an extended period of economic uncertainty.
Trade wars roll on
Trade disputes were one of the principal reasons cited by US Federal Reserve chairman Jerome Powell for dropping the cash rate by 0.25 of a percentage point at the end of July.
Mercer Investments principal Simon Calder said investors were bracing for tougher economic times ahead because of the potential fallout of the trade war. This comes despite a strong showing on local and global markets in July, and a rate cut by the Reserve Bank of New Zealand to a record low of 1%.  
"The fact that the US has announced it will apply a 10% tariff to the remaining merchandise imports from China sent a signal that the US doesn't seem particularly keen on any sort of meaningful trade agreement with China," Calder said.
The S&P 500 was up 1.31% for the month of July, a notable drop on the 6.87% rise recorded in June, whereas the Nasdaq 100 was up 2.3%, the Dow Jones Industrial Index was up 1%. and locally the NZX50 hit historic highs.
"Before the trade tensions escalated at the end of the month, the big theme was the continued decline in global and New Zealand bond yields, as growth continued to slow and as markets increasingly anticipated interest rate cuts among the major central banks," Calder said.
By early August the New Zealand 10-year bond yield was at record lows, and Calder said the issue was intrinsically tied to broader concerns about international trade.
Alongside the US-China disputes there was a knock-on effect on the performance of emerging markets in July, particularly in East Asia.
Brexit uncertainty continues
There has also been growing concern about a no-deal Brexit in the United Kingdom, where Boris Johnson became the new Prime Minister in July.
"If anyone says they know how Brexit is going to unfold, then I'm not sure I believe them. But my perception is that the risk of a no deal on October 31 has lessened slightly, as Parliament is positioned to potentially block that happening," Calder said.
"It all seems very fluid over there at the moment, and that is already against a backdrop where some second quarter GDP data was released for the UK that showed the UK economy contracting under the weight of all this uncertainty."
Outlook
Mercer's senior Portfolio Manager Robert Kavanagh (New Zealand) said: "We are becoming more cautious about returns over the next 12 months given the extent to which prices have risen, and expect volatility to return. There are a few risks in the pipeline so be prepared for more ups and downs, however the low interest rate environment does help to cushion some of these risks." 
The global economy may be uncertain, but you don't need to be.
Now it's a timely reminder to ensure you are invested in a fund that suits your risk appetite and time horizon. You can book an appointment with a Mercer Financial Adviser today and map out a future you can be confident in. 
·      Call 0508 637 237 
·      Email: NZAdvice@mercer.com
·      Online request form: https://purl.co.nz/requestFinancialAdvice/