Change of Investment Option names
Investments that create a better future and generate good returns
Mercer's research shows Kiwis want to invest sustainably and enjoy strong investment returns. Mercer is focused on delivering that by managing investments in a way that is sustainable for the environment and society, helping to create a world we all want to live in. We believe sustainable investing can also deliver better long-term investment returns.
Reflecting this focus on sustainability, the Mercer KiwiSaver scheme investment option names will change from 21 July 2021*. There is nothing you need to do and the new names will be visible when you log into your online account.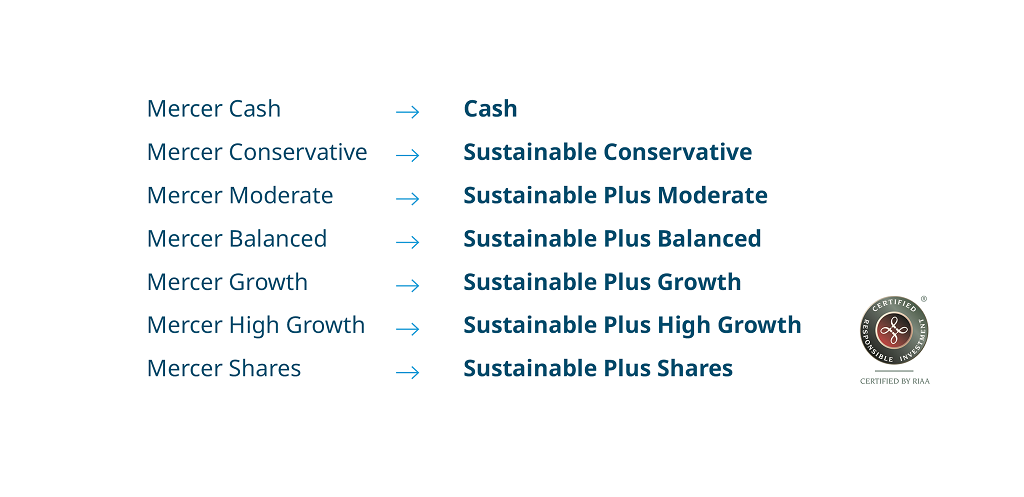 Trust Mercer to invest your KiwiSaver money sustainably
As a global leader in sustainable investment, generating a positive environmental and social impact alongside financial returns is our priority. We see responding to issues like climate change as an investment opportunity.
The Mercer KiwiSaver scheme investment options actively invest in companies involved in providing solutions to the world's sustainability challenges, like renewable energy, water infrastructure and pollution control. We believe companies that take these issues seriously are more likely to enjoy sustainable financial returns over time.  
The Mercer KiwiSaver scheme funds have been externally certified by Responsible Investment Association Australasia (RIAA**), an organisation that operates the world's first certification programme for responsible investment products.
We also exclude companies involved in the most carbon intensive industries, gambling, adult entertainment, tobacco, controversial weapons and alcohol related activities***.
Mercer invests in a very broad range of local and global investments, which we believe will maximise your returns while lowering risk.
Keen to learn more? Find out more by watching this short video or you can visit our responsible investment webpage.
*The Mercer KiwiSaver scheme responsible investment option names will be updated on 21 July 2021, subject to the Product Disclosure Statement taking effect.
**The Responsible Investment Certification Program does not constitute financial product advice. Neither the Certification Symbol nor RIAA recommends to any person that any financial product is a suitable investment or that returns are guaranteed. Appropriate professional advice should be sought prior to making an investment decision. RIAA does not hold an Australian Financial Services Licence.
***The underlying funds apply criteria to exclude companies which generate a significant proportion of their revenue from these sectors.