Mercer NZ Leadership Team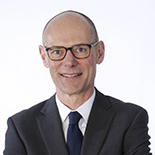 Martin Lewington
CEO, Mercer (N.Z.) Limited
Martin was appointed CEO of Mercer NZ in 2009 and is responsible for the firm's Wealth, Health Benefits and Workforce Solutions businesses. Martin has also held senior roles with Mercer in investment management and investment consulting businesses since joining Mercer in 2006.
Martin has 30 years' experience in corporate advisory consulting. Prior to Mercer, he worked for a boutique investment bank, PricewaterhouseCoopers and EY. His background covers a range of consulting projects in New Zealand and the United Kingdom including Treaty of Waitangi settlements, corporate finance projects, investment consulting, privatisations and financial planning. Martin is also a director of CentrePort Limited, a member of the Audit and Risk Committee and CentrePort Captive Insurance Limited.
Martin holds a Master of Science from the London School of Economics, a Bachelor of Business Studies from Massey University, is a CA member of the New Zealand Institute of Chartered Accountants and a Chartered Member of the New Zealand Institute of Directors.