At work. At play. At Mercer.

In this behind-the-scenes interview we talk with Consumer Wealth Leader, Sarah Whitelock, about prioritising for today and for the future – both at work and at play.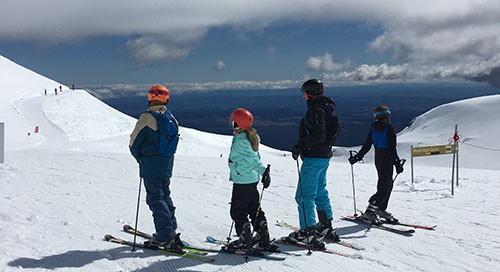 At work Sarah is Consumer Wealth Leader.
At play Sarah enjoys spending time with her family and friends and helping out in her community, she also loves holidays!
What do you do at Mercer?
I oversee Mercer's consumer products including the Mercer KiwiSaver scheme, Mercer Super Trust, and the Mercer FlexiSaver unit trust. Together with my team I help ensure that all Kiwis have access to innovative products that enable them to make great long-term investment decisions and meet their investment goals. It's really motivating knowing I'm working to help so many New Zealanders improve their future.
And you're an accountant by training but have carried out a few different roles at Mercer?
Yes, I am an accountant by training. I've been fortunate to be able to have an interesting and fulfilling career at Mercer, including seven different roles and three lots of parental leave over twenty years. When I joined Mercer I would never have dreamed I'd still be working here twenty years later!
And what does life outside of work look like for you?
With three children a lot of what I do outside of work revolves around my family and running a bit of taxi service. My husband is away frequently for work, which adds to the busyness. The kids are now all out of primary school, so my days of road patrol and school camps have abated, but there's still plenty to do and I think it's important to be involved in the community. A couple of the ways I currently do this is by managing a football team and a cricket team. I really enjoy entertaining and a natural part of that is helping people out with homecooked meals. I also love family holidays and sometimes I just like to just curl up and read a good book.
With such a busy life, how do you prioritise time for yourself and for your family?
We all need to recharge our batteries sometimes and it's really easy to be busy, but it's harder to make time for the things that matter. One of things we like to do is to plan and block out time for family holidays in advance.
It's the same financially really. We all need to take time to look at the big picture sometimes and plan ahead. It's easy to get caught up with what needs to happen today so the wheels don't fall off, and to ignore what needs to be done today for the future, for yourself and for your family.
Mercer carried out some interesting research on that?
Yes, Mercer did some research with Stanford University, which showed that most of us have no emotional connection to our future selves. When people thought about their future selves, the neural patterns in their brains were the same as when they thought about a stranger.
We all know we'll age, but emotionally, we don't identify with our future selves and that emotional disconnect is part of what can make saving so hard. It can be difficult to make sacrifices of your time or money today for the future.
So what advice would you give people who aren't currently preparing for their future self?
Take the time to actively consider yourself in retirement. Start by thinking about when you want to retire, how long you might have in retirement, what sort of lifestyle you will want and where you will live. Consider how much money you'll need to fund your lifestyle and then consider how much you're likely to get from superannuation or other income sources.
Getting started can be quite overwhelming, so I break things down into chunks to help make big goals seem more achievable. Just take the first step, then just do the next thing. For example, if you haven't joined KiwiSaver, then the next thing is probably to join. Once you've done that – what's the next thing? Look at your contributions. Are you contributing? Could you contribute more? Are you in the right investment fund for your age and stage of life? Another great 'next thing' to check is whether your provider has your correct tax rate.
Great, so take it step by step, then review your plan as your circumstances change?
Yes, once you get started and begin to see your nest egg growing then it becomes easier to be more engaged and to prioritise a regular review of your plan and contributions. If you don't review your plan then you could miss out on opportunities that can improve your investment and your future. Every little thing you do today could add up to a better tomorrow.
And products change too, like the recent KiwiSaver changes.
That's right, our circumstances change over time but products evolve too. The recent KiwiSaver changes mean that there are now more levels of contributions – you can contribute 6% or 10% in addition to the existing rates of 3%, 4% and 8%.
Finally, is there a tool that might help people get started?
Absolutely. Try out our KiwiSaver Retirement Income Simulator to see how a little more in your account today could make a big difference to your tomorrow or give our team of advisers a call, they're here to help.
Mercer's team of experienced investment specialists can provide free financial advice, tools and support to set up and maintain an effective investment strategy to suit your financial situation.
Our Helpline team can explain how your account works and answer general questions about your retirement savings. They can also connect you with one of our financial advisers. Call 0508 637 237, 9am to 7pm on all business days.