How to manage financial stress
Dealing with financial stress makes it hard to live the kind of life you want. Financial issues can affect New Zealanders in all facets of life including their mental and physical health and relationships with friends and family.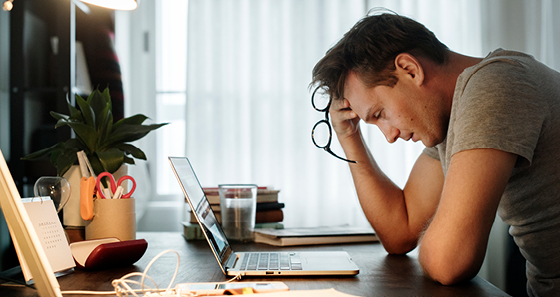 A recent Financial Services Council report highlighted the strong relationship between money and wellbeing with 51% of New Zealanders saying that financial issues have adversely affected their overall wellbeing at some point in their life and over 60% were worried about money on a monthly basis. Thinking about their financial future, 70% felt they were unprepared for retirement, highlighting the vital role of the KiwiSaver scheme as a positive step in preparing New Zealanders for a comfortable retirement. 
Here are some tips to help manage financial stress and take control of your finances:
1. Try not to panic and ask for help
Emotional situations tend to lead to potentially poor financial choices. It's important to take the time to get the right information and if you need financial help, reach out and seek advice on what actions are best for you. For example, if you are new to KiwiSaver, seek financial advice when you first join, not when you want to withdraw your KiwiSaver money for your first home or retirement. Remember that even financially stable people may still stress about money and worry about their own financial future.
2. Make a money plan and tackle one issue at a time
Dealing with several money problems simultaneously may feel overwhelming but if you start with decluttering the money coming in and out of your bank account, identifying the main source of the problem and making a plan, it can help bring you peace of mind. The more control you have, the less stress you will feel. It's important to prioritise your "needs" and avoid any unnecessary "wants".  Be honest about where your money goes and the difference small changes can make, such as taking your own lunch every day or shopping fortnightly for groceries to reduce any unnecessary "want" purchases. There are various online tools available to help with budgeting and planning such as sorted.org.nz/tools.  
3. Set realistic goals and take an active interest in your financial future
Establishing realistic financial goals will help you have something to strive for and if you are experiencing financial stress, keeping your goals simple, realistic and short-term can help.  These goals could be as simple as bringing in your own lunch three times a week, buying your flat white coffee every second day or saving an extra $100 per month.  Once you've set your goals, start thinking about how you may be able to take a more active interest in your financial future. Managing your money effectively is a bit like your household chores, something you may not appreciate and see the value of until it's done.
When it comes to your KiwiSaver money, some key questions to ask yourself are:   
Have you checked if your KiwiSaver money is on track to meet your financial goals, whether it be first home or retirement?
Have you reviewed your KiwiSaver investment option or tax rate? This is particularly relevant if you're financial circumstances have recently changed, such as reduced income. At varying ages and stages of life, you will be better off with different KiwiSaver investment options and our risk quiz can help you see which investment option is best for your situation. If you're not sure if your KiwiSaver tax rate is correct, you can work it out in 2 minutes with our online calculator.
Have you considered increasing your contribution rates (if you are financially able to)? If you're unsure about what percentage of your salary to contribute to your KiwiSaver account, our retirement income simulator tool can help you see your future retirement income and help you decide which contribution rate might be best for you.
Our financial advisers can help you make the right decisions to help manage and grow your KiwiSaver money.  Free financial advice is available by emailing NZadvice@mercer.com or calling 0508 637 237.