Time to review your tax rate
Any returns you make on your investment with Mercer are subject to tax. We deduct the appropriate amount from your account and pay it to Inland Revenue on your behalf.
It's up to you to tell us how much to pay
The tax rate applied to earnings from your Mercer KiwiSaver scheme, Mercer FlexiSaver or Mercer Super Trust account is called your Prescribed Investor Rate (PIR). It could be 10.5, 17.5 or 28 per cent, depending on your income for the previous two years.
Because we pay tax to Inland Revenue on your behalf, you don't need to file a tax return for your Mercer retirement savings accounts; unless you've nominated the wrong rate. Inland Revenue is moving to help make sure investors, including Mercer investors, get on the correct PIR.
GET YOUR RATE RIGHT
Choosing the wrong PIR can have significant consequences, so it's best to get it right.
If you nominate a rate that is higher than it should be, you'll pay too much tax and cannot claim the extra tax back.
If you pay too little tax, by choosing a rate that is too low, you'll have to include your earnings on your tax return and pay tax at your marginal rate, which may be more than the top PIR of 28 per cent. You could also be subject to penalties.
If you don't nominate a rate, your PIR will be set at the default rate of 28 per cent, which means you could be paying too much tax.
To check or update your PIR, log in to your account; go to 'personal details' and click the 'update your PIR' link.
If your PIR is correct then you don't need to do anything.
If you are not sure about your tax rate, you can work it out in 2 minutes with this PIR calculator. Alternatively, please refer to the PIR table below.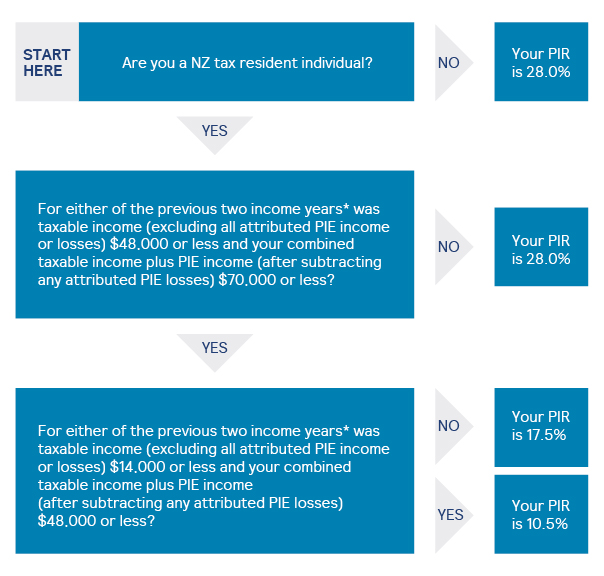 *Previous two income years refers to the two years prior to the tax year that the PIR is being applied to. An income year is generally the period from 1 April to 31 March of the following year. However, an income year can start and end on alternative dates if Inland Revenue consents. The tax year is always the period from 1 April to 31 March of the following year.
CHILDREN IN KIWISAVER
Most children in the Mercer KiwiSaver scheme will meet the criteria for the lowest PIR of 10.5 per cent.
You can make significant savings on your child's behalf if you update their PIR.
QUESTIONS?
Call us on 0508 637 237. You can find more information on the Inland Revenue website.
Important: Please note that any information in this material regarding legal, accounting or tax outcomes does not constitute legal advice or an accounting or tax opinion and prior to relying and acting on this information it is important that you seek independent advice from a qualified lawyer or an accountant regarding this information.