5. Protect
The unexpected can happen - make a plan to protect your saviongs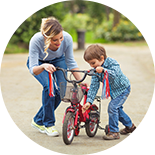 You're doing a great job saving for your retirement, but what if you lost your income and couldn't make contributions to your account?
Mercer has launched SaverProtect, the only insurance benefit in New Zealand that can protect your KiwiSaver contributions if you can't work.
SaverProtect is FREE for Mercer KiwiSaver scheme customers when you have a LifeProtect or BillProtect policy with Mercer.
Helping you through the tough times
With SaverProtect, $200 per month could be paid into your Mercer KiwiSaver scheme account if you are unable to work due to illness, injury or redundancy. This added safety net could be extremely helpful, plus it could ensure that you remain eligible for the annual member tax credit.
Get an estimate online, or call us on 0508 637 237 to find out more****.