How 2020 changed our spending habits

Life changed in 2020, including our shopping habits. Restrictions replaced routine, fear replaced free-and-easy. Many of us were stuck at home for a period of time, so we did things differently. We spent countless hours 'zooming' friends and family, binged on Netflix, exercised at home, supported those in need, cooked up a storm and shopped online. We did a lot of shopping online.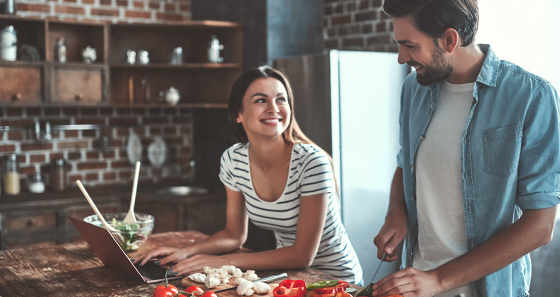 So how did 2020 shape our buying behaviours and what lessons did we learn?
Emotive purchasing
Some purchases this year were headline-grabbing. Stress and fear triggered by social restrictions caused the frenzied buying (and hoarding) of toilet paper. Heightened anxiety and fear also impacted financial decision making. In March 2020, some investors switched out of higher risk assets in response to falling markets, potentially locking in losses when the markets recovered.
Lesson: Don't panic—markets are cyclical and nobody has a crystal ball to tell when markets will bottom. Sticking with your long-term investment plan during times of volatility is the best move because making decisions in a heightened emotional state may lead to poor outcomes.
Back to basics
The pandemic offered us the opportunity to go back to basics. We made meals from pantry staples, grew our own food and some of us even tried our hand at DIY haircuts. Embracing the simple life delivered environmental benefits (we reduced food packaging and food miles) and our resourcefulness saved us money.
Lesson: As life returns to normal, try keeping some of your new money saving routines. You could swap a café latte for a home-brewed option, cook more often or perhaps even stretch out the interval between your regular haircuts.
Online all the way
Social distancing, self-isolation and the closure of bricks and mortar stores sparked the move to online retail.
Research by NZ Post  in 2020 showed that online spending peaked at more than $200 million in April 2020. In May 2020 there were nearly 1.5m Kiwis shopping online (28% more than in May 2019) and 170,000 adult New Zealanders shopped online for the first time during the first six months of 2020. It looks like online shopping will grow from strength to strength.
Lesson: The growth in online sales goes hand in hand with electronic payments but there's a catch for consumers. Studies show using cash triggers pain receptors in the brain, which don't switch on when using a credit card. This makes it easier to use credit, which can make us spend more. Being mindful of how much you're buying and what you can comfortably afford can help to keep a lid on spending.